One of our favorite projects, the #WhyNotAkron Video took our passion and creativity to new heights, as we showcased the city of Akron through the voices of its residents.
OBJECTIVES
Create a multi-use piece, that could not only be shown at the Mayor's annual State of the City Address, but also could gain widespread reach online, shared by those who live in and care about Akron
Improve Akron's civic pride by showcasing the city in an authentic way
Create a piece that showcases Akron's grittiness and progressive character
Showcase people and places in the video that might be new to the average viewer
Grow social engagement and referral traffic for the city's social media accounts
REQUIREMENTS
Concepting and outline creation
Casting and coordination
Location scouting
13 days of video shoots
Creation of an apx. 5:00 documentary-style video
Assistance in creating a launch plan for the video
PHASE 1
DISCOVERY AND CONCEPTING
We were honored to be approached by the Mayor's Office to discuss how we could be involved in the 2017 State of the City Address. Our team met with representatives from the city to brainstorm a concept that would tell the story what Akron truly is today, in an honest and genuine manner.
We took the lead on creating a large-scale piece, and embraced the challenge of telling the story of a diverse population of nearly 200,000 people in just a few minutes. We learned that the city wanted a video that could be used in multiple ways, being featured at the Mayor's State of the City Address, and also gaining widespread reach online. They wanted to showcase the heart of Akron's grittiness and progressive character. We suggested a more indie-style video, shot in a documentary-style.
After that meeting, we spent time brainstorming as a team, researching other promotional and tourism videos for cities and towns, and then started to develop a concept. We began making a list of the people and places that we imagined would encompass the diverse, hard working mentality that Akron is known for. We also talked a lot about what characteristics define Akron. Words like grittiness, pride, resilient and community kept coming up, so we set out to create a piece that exemplified those qualities.
We also felt that it was important to feature people that the average Akron resident not have had the opportunity to hear from before, and show places that might be a bit under the radar. We felt that the true story of Akron is not that of a city of glitzy, bright lights, shiny skyscrapers and obvious hotspots. It's a city of people who have the drive to go out and do things on their own, not for attention, but to make better lives for themselves and the people they care about. That's the pride and determination that we wanted to capture.
With a strong list of people and places that we felt would be good fits for the video compiled, the next step was planning the story's narrative. We started with a longer, more involved outline, and then we internally tightened it down, defining which sections could feature certain people, and the topics we'd like to hear them talk about. We presented this concept to the Mayor's Office and they loved it and felt it could perfectly capture the feeling that they were looking to convey.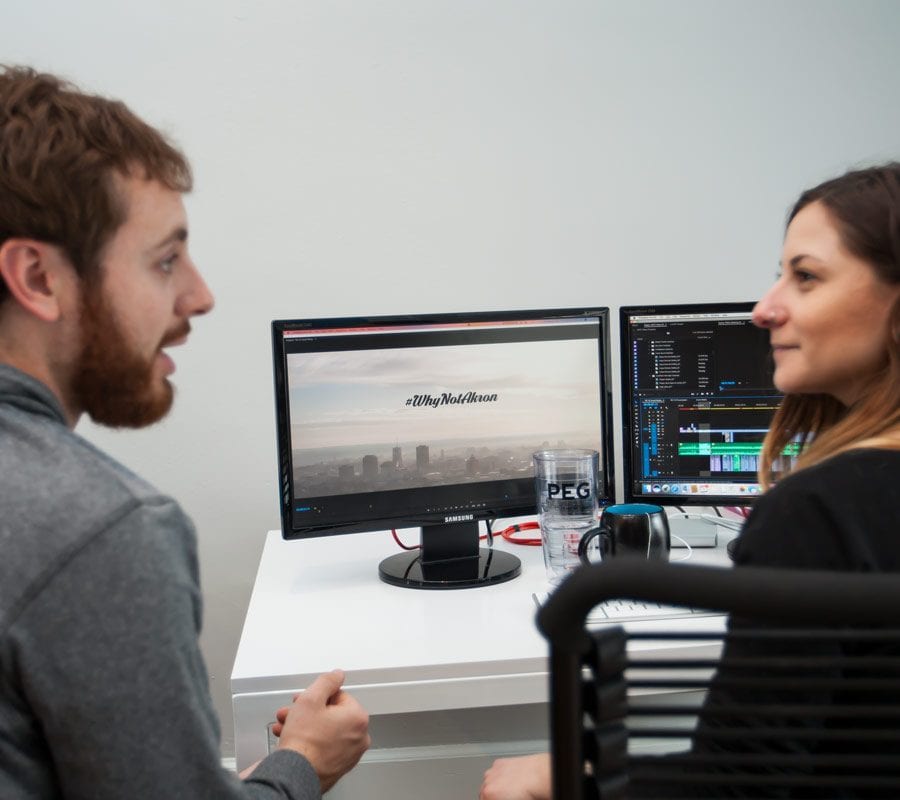 PHASE 2
COORDINATION AND VIDEO SHOOTS
The coordination for this video was quite the task! Our Project Manager, creative team and and representatives of the city worked together to book and confirm each of the video shoots, and make sure everyone was on board with telling their story. Over the course of two months, we spent 13 days gathering footage, talking to more than 40 people and visiting countless locations all throughout the 62.4 square miles that make up Akron.
Some of the video shoots were in the early morning. Some were late at night. Many were even at businesses and places that we didn't even know existed ourselves, but that now that we do, we'll definitely be going back to! Each day of shooting, our team had a blast, meeting new people and discovering those new places, while hearing the story of Akron through the eyes of a diverse group of people, all with different experiences and viewpoints to share.
In order to achieve the gritty, indie look that would give the piece a raw and authentic feeling, our Production Assistant, who studied documentary filmmaking, was a part of each shoot. Another key to all of these shoots, was having team members on-site who could effectively connect with the people that we talked to, and make them feel comfortable.
We talked to entrepreneurs, refugees, transplants and people who have lived here since they were born, and plan to call it home for the rest of their lives. We got to film and interview firefighters, police officers, small business owners, artists and more. After days of shooting and hours of interviews, we were blown away by how similar the positive message was when people talked about what Akron meant to them. We left each shoot inspired by the stories we heard and the lives that were shared.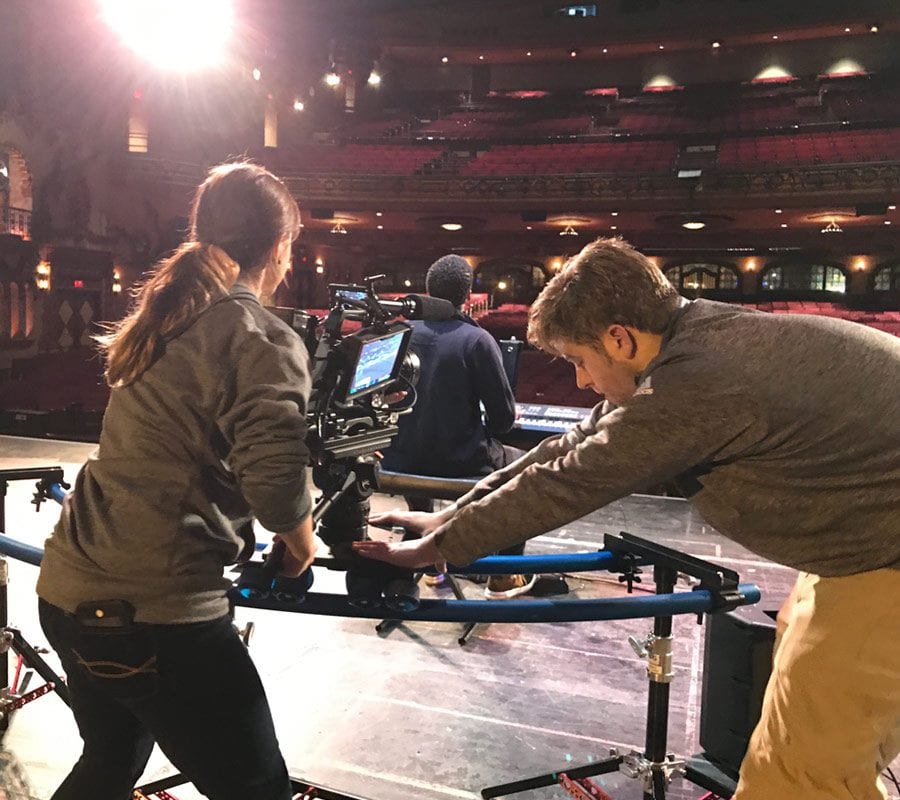 PHASE 3
VIDEO CREATION 
After each, jam-packed day of filming, we would come back to the office, transfer the footage to our storage system, sub-clip and highlight our favorite shots. After the final day of shooting was complete, we dove into crafting the story of the piece.
After sorting through hundreds of clips and carefully selecting our favorites, we looked back to our outline to help us form the video's narrative. We were very mindful throughout the process of letting the on-camera subjects talk from their heart and not scripting out anything that they said. This allowed the piece to be truly authentic. We carefully crafted the video, mindful of respecting their words and stories, while tying them all together to create a cohesive final product.
The look of the video was intentionally designed to feel a bit raw, as was the shot selection, the colors and the sounds. This is because Akron isn't a corporate, perfectly-polished city. We created the video using Premiere and After Effects.
For the music and key scenes at the beginning and end of the piece, we chose Kofi Boakye's "Made in Akron, featuring Andre Bland" as the featured song. Kofi is from Akron and is a talented young pianist, with an equally amazing story. We felt that his music provided beauty, honesty and classic Akron-grit. The song that was featured draws a sentimental line through the piece, allowing the audience to reflect on what they are hearing and seeing, creating a prideful connection with the city.
While the last shot of Kofi playing to a full house at the Akron Civic Theatre was digitally created by our production team through the magic of special effects, anyone who watched the video can see that he has the talent and dedication to be playing to a full house there one day. The final shot is intended to show that it's the hard work when nobody is watching that makes the reward worthwhile in the end.
RESULTS
This video was met with excitement from people not only locally, but around the world with connections to Akron. The Mayor's Office shared the video on its Facebook account, uploading the video to that platform. They also uploaded it to Youtube, sharing that link on Twitter. The response and outpouring of love for the video was overwhelming.
Facebook: 144,677 Impressions
59,000 Views
627 Likes
962 Shares
Twitter: 14,610 Impressions
52 Retweets
76 Likes
YouTube: 2,500 Views
These numbers shattered previous records for the city's accounts. It became their most-shared and most-liked post of all-time, making for a successful end to a great project!